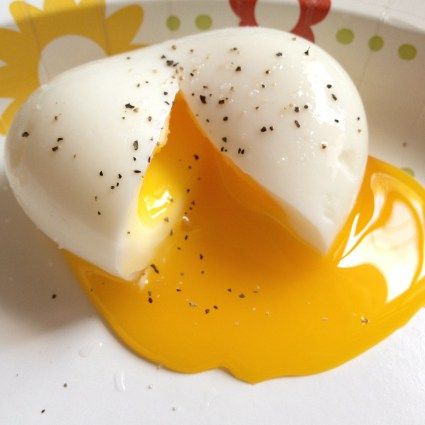 For those who like their eggs runny, there is some good news today.
Thirty years after the Salmonella scare, the Food Standards Agency has changed  its advice about eating eggs.
Infants, children, pregnant women and elderly people can now safely eat raw or lightly cooked eggs that are produced under the British Lion Code of Practice.
The revised advice, based on the latest scientific evidence, means that people vulnerable to infection or who are likely to suffer serious symptoms from food poisoning can now safely eat raw or lightly cooked hen eggs or foods containing them.
Previous advise had said that vulnerable groups should not consume raw or lightly cooked eggs, because eggs may contain salmonella bacteria which can cause serious illness.
In 1988 Edwina Currie, the then junior health minister's comments that "most" egg production in Britain was infected with salmonella sparked a public outcry and saw a dramatic fall in egg consumption.
She was later forced to resign from government.
The decision to change the advice is a result of the findings from an expert group that was set up by the Advisory Committee on the Microbiological Safety of Food (ACMSF) in February 2015 to look at egg safety.
Its report, published in July 2016, highlighted that the presence of salmonella in UK eggs has been dramatically reduced in recent years, and the risks are very low for eggs which have been produced according to food safety controls applied by the British Lion Code of Practice. More than 90% of UK eggs are produced under this scheme.
Heather Hancock, Chairman of the Food Standards Agency, said: "It's good news that now even vulnerable groups can safely eat UK eggs without needing to hardboil them, so long as they bear the British Lion mark. The FSA has thoroughly reviewed the scientific evidence about the safety of these eggs, and we're confident that we can now change our advice to consumers.
"The major reduction in the risk of salmonella in Lion eggs is testament to the work carried out by egg producers. The measures they've taken, from vaccination of hens through to improving hygiene on farms and better transportation, have dramatically reduced salmonella levels in UK hens."
A range of interventions have been put in place across the food chain as part of the Lion scheme including vaccinating hens, enhanced testing for salmonella, improved farm hygiene, effective rodent control, independent auditing and traceability, and keeping the eggs cool while transporting them from farm to shop.