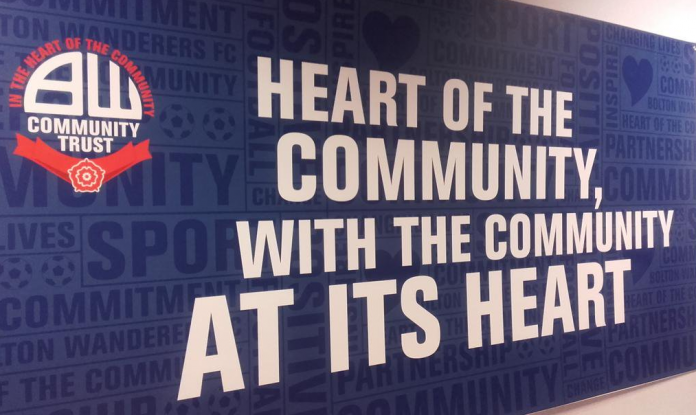 UK Healthcare, a leading provider of corporate and personal health cash plans, have announced a partnership with Bolton Wanderers Community Trust, which will see them sponsoring the disability suite at Bolton Wanderers Football Club for the 2017/18 season.
The partnership will also include the provision by UK Healthcare of waterproof covers for wheelchair users using bays pitch side in other parts of the ground on match days.
The UK Healthcare Suite at BWFC's Macron Stadium offers a way for those in wheelchairs to enjoy home matches in comfort; with heated wheelchair bays, a panoramic view of the pitch from its elevated vantage point, and easy lift access to and from the suite. The sponsorship means that the suite can continue to offer its services to fans with disabilities throughout the 2017/18 season; helping those who find it difficult to brave the elements in colder months to enjoy the matches in a warm and sheltered environment.
Phil Mason, Head of the Bolton Wanderers Community Trust said, "We are delighted about this new partnership. It is supporting key work both at the Club and in the community that is real going to help make a difference to people's lives. New provision for this coming season includes delivering a youth club specifically for those with disabilities, via the support of UK Healthcare. We are really looking forward to working with UK Healthcare over the coming season and are grateful for their tremendous support".
Stephen Pugh from UK Healthcare commented, "We're really excited about this new partnership and a significant reason why UK Healthcare wanted to get involved is the vital work being carried out in the wider community of Bolton by the Bolton Wanderers Community Trust. We know that the Bolton Wanderers Disability Football Club offers people of all ages and abilities the chance to get involved with playing, and participation in the 'Every Player Counts' programme which is doing great things to help people with disabilities across the region to get all of the benefits of making active and healthy choices and being part of a team. We're delighted to be a part of helping great projects like this to continue and expand."