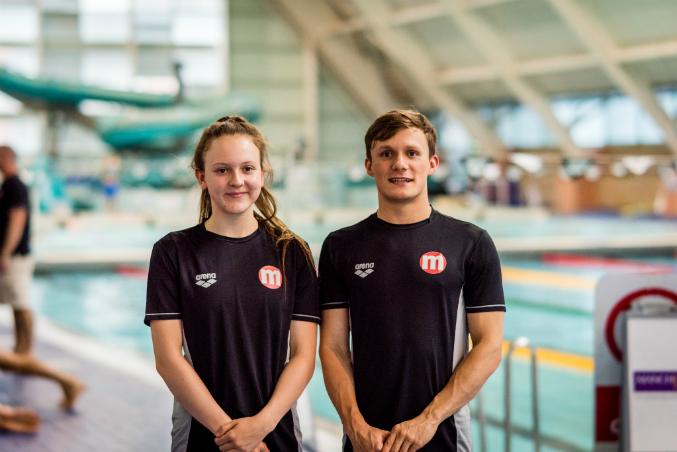 Two young Manchester marathon swimmers are gearing up for the experience of a lifetime, as they prepare to swim across the mighty Yangtze River in China later this month.
Ashley Hogg and Alana Hedges, from the City of Manchester Swim Team, will be competing in the International Yangtze River Swimming Event, which is renowned as one of the toughest tests for elite marathon swimmers anywhere in the world.
The race has taken place annually in Manchester's sister city, Wuhan, for more than 40 years, with athletes testing themselves against a strong current to cross the 1.8km-wide river.
The duo are specialist open water swimmers and train together seven days per week at the Manchester Aquatics Centre.
Ashley, 19, who has represented Team GB in the World Junior Championships, said: "Of all the competitions I've been involved with, this is the most interesting.
"Open water swimming events can take place on any body of water and we often compete on a lake – or in the sea, which can be more challenging. But crossing a river means that the current will be against us all the way.
"To see China and race in new conditions will be fantastic. We're racing against top swimmers from around the world, but I'm feeling really good in training and am confident that I can compete with the best."
Alana, 17, is Manchester born and bred and learned to swim at Wythenshawe Forum, before joining the City of Manchester team. She won silver in the 5km open water event at the 2016 British Championships and the event in Wuhan will her first taste of international competition.
"It's really exciting and I'm very proud to represent my city in China", said Alana, whose ambition is to go to the Olympics with Team GB.
"It will be hard swimming in the current and, like Ashley, I've not experienced those conditions before. But I am really confident".
Both athletes discovered their passion for marathon swimming early on, with Ashley first trying the discipline in 2012 and finding himself instantly hooked.
Alana explained: "I just love swimming and found that once I got into the pool, I wanted to keep going for as long as possible.
"Then I heard about an open water race at Salford Quays, decided to go for it – and I won. So it's gone on from there."