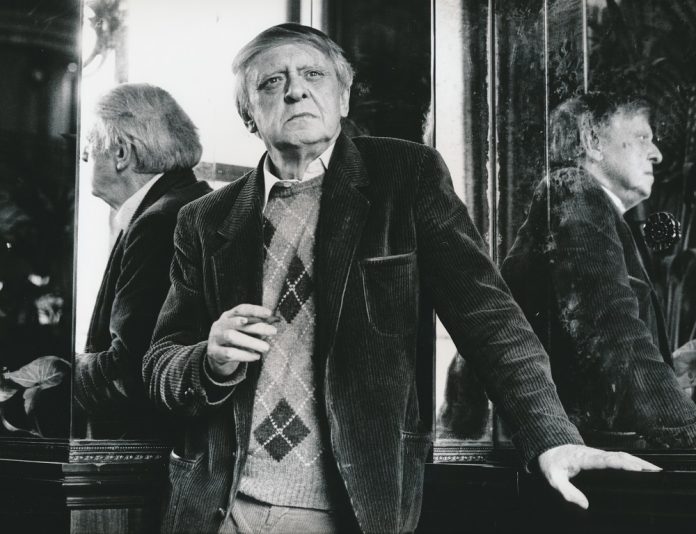 Long-forgotten works by Anthony Burgess, the author of A Clockwork Orange, will be published in new editions to mark the centenary of his birth.
The novel A Vision of Battlements, never reprinted since its first appearance in 1965, is the first result of a major international project led by two Manchester Metropolitan University academics to recover 'lost' novels by the prolific Mancunian writer.
Each new release will also feature previously unseen documents from the Burgess archives, including extracts from the writer's notebooks and private correspondence.
The Irwell Edition of the Works of Anthony Burgess is the brainchild of two literature scholars from Manchester Metropolitan: Andrew Biswell, Professor of Modern Literature, and his colleague Dr Paul Wake, Reader in English.
Biswell has edited a new version of A Vision of Battlements, annotated the text and written a fresh introduction explaining the history of the novel. The Irwell Edition is an international project which involves a large team of Burgess experts in North America, Europe and the UK. The series will include stage plays, musical libretti, letters and essays written by the author. Biswell and Wake are working with archives based as far afield as Texas, Missouri, Normandy and Ontario.
A Vision of Battlements is a twentieth-century retelling of Virgil's epic poem The Aeneid, set in Gibraltar during the Second World War. Musical references are scattered throughout the text, as they were in much of Burgess' work.
A Spotify playlist has been compiled to accompany the new books and to celebrate the first new edition A Vision of Battlements for more than 50 years.
The playlist reflects Burgess's wide-ranging tastes which would go on to influence his own career as a musician, including little-known classical pieces, sea shanties, large-scale choral and orchestral works, pieces for Spanish guitar, operas, songs and ballets.
Published by Manchester University Press, the book will be released on 2 July 2017 to open the three-day Anthony Burgess Centenary Conference in Manchester. A second volume, The Pianoplayers, is being published simultaneously.
Burgess wrote 33 novels and 25 works of non-fiction throughout his life, yet much of his work is rare and out of print. He was also a composer of over 250 musical works, some of which will be performed during the conference.
Professor Biswell will be on stage to discuss Burgess's music with the composer Raymond Yiu at the Bridgewater Hall on 4 July. Their talk will take place immediately before the BBC Philharmonic gives the European premiere performance of Burgess's own Symphony in C. The concert, which is part of this year's Manchester International Festival, will be recorded for later broadcast on BBC Radio 3.
Biswell, who is also Director of the Anthony Burgess Foundation and the author's biographer, said: "Anthony Burgess is one of the great European writers of the twentieth century, but many people do not realise quite how prolific he was. One of the aims of the Irwell Edition is to change the conversation about his novels, and to introduce readers to little-known works which have been out of print and inaccessible for many years.'
"Burgess is unusual in that he came to writing by way of having been a professional musician. Music is at the heart of his creativity, and musical references are present in all of his novels. I am delighted that people will have the opportunity to hear the Symphony in C played for the first time in the city of his birth, to celebrate what would have been his hundredth birthday."
Biswell and Wake will also be speaking at the Centenary Conference about new discoveries from the Burgess archives. Dr Wake will address Fact as Fiction in Burgess's Shakespearean writings, while Dr Graham Foster and Dr Martin Kratz from Manchester Metropolitan will discuss Classical Literature in Anthony Burgess's Beard's Roman Women and Burgess and Creative Writing respectively.
Biswell is playing a key role in other events to mark the Burgess centenary. He will be in conversation with novelist A.L Kennedy about A Clockwork Orange at the Barbican Centre in London on 29 June, and is due to take part in a public discussion on 17 August with the producers of a new film adaptation of Burgess's Enderby novels, playing at the Whitworth Art Gallery from 30 June until mid-September.